The Universität Stuttgart is one of the oldest technical universities and has been repeatedly ranked among the top universities in Germany. Courses range from architecture, biology, chemistry, physics, mathematics, computer science, history, languages, philosophy, social sciences to almost all of the fields of engineering sciences. The University of Stuttgart, which was founded in 1829, has integrated the social sciences and the humanities with engineering to become an internationally renowned, future-oriented place of research. Today nearly 19,000 students are studying to complete their degrees in one of the 44 degree courses offered by the 10 faculties. More than 4,500 of these young men and women are international students. Most courses are taught in German, but there are many in English. 

There is an Extended Spring Semester Program (ESSP) for exchange students at the Universität Stuttgart. This program provides an excellent opportunity for students who have had little or no exposure to German to experience a total immersion in the German language and culture right in the heart of Europe. The pre-semester modules begin in January, continue in March and are finished in July.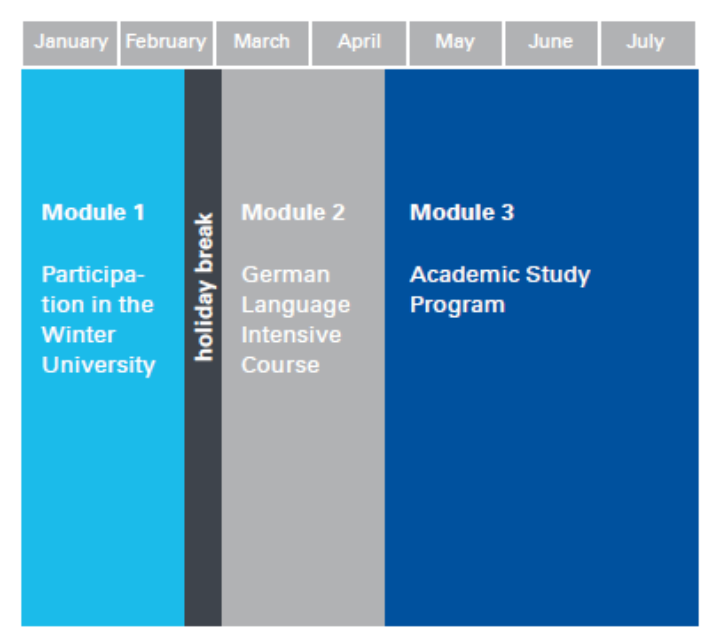 There are three modules in the ESSP and students can complete all three modules, Module 1 (Winter University) alone, or Module 2 and 3 together. The Winter University last six weeks and runs from January through February. Module 2 is an intensive German Language course that runs from March to early April. Module 3 is considered to be the standard exchange program. Applicants will need to specify which module(s) they plan to participate in when completing the study abroad application. 

Upon completion of each class, students receive a "Schein" or certificate of completion. The Scheine must be delivered to the UA Office of Study Abroad and Student Exchange. Coursework on the Schein is evaluated as transfer credits towards your total degree unit requirements. It is important to keep multiple copies of these Scheine for future documentation. Your exchange coursework grades do not affect your UA grade point average. This is an exchange program with fees based on UA tuition and registration fees.
Programs with courses in English: Aerospace Engineering, Air Quality Control, Solid Waste and Waste, Architecture and Urban Planning, Automotive and Engine Technology, Chemistry, Computational Mechanics of Materials and Structures, Computer Science, Engineering Cybernetics, English, English linguistic, Environmental Engineering, Geomatics Engineering (GEOENGINE), Infotech, Infrastructure Planning, Material Science, Mechanical Engineering, Political Sciences, Physics, Technical Biology, Water Resources Engineering and Management.
SUPER - Stuttgart University Program for Experiencing Research
The SUPER Program is an excellent opportunity for students to conduct research in any of the following fields: Architecture and Urban Planning, Energy Technology, Process Engineering, Biological Engineering, Computer Sciences, Electrical Engineering, Information Technology, Aerospace Engineering, Engineering Design, Production Engineering and Automotive Engineering.  Program fees are $1200 only and Stuttgart offers scholarships for housing and living expenses for students with outstanding academic records.
You can find more information about courses in the Course Catalog