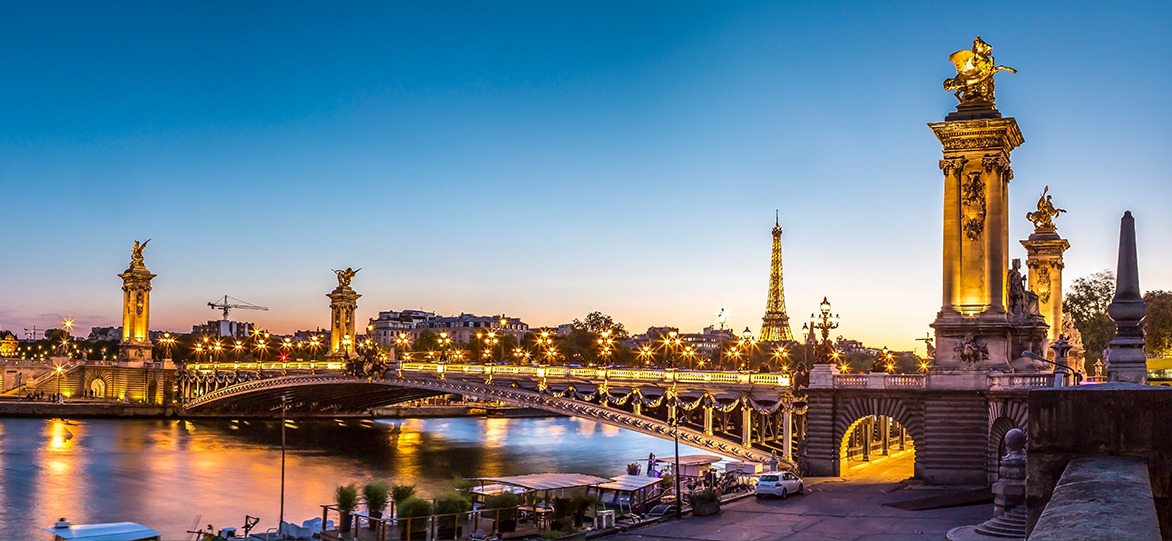 Sciences Po
Paris, France
Program Facts
Credit Type: Transfer Credit
Terms Available: Academic Year , Fall , Spring
Class Eligibility: Graduate , Junior , Senior
Program Open To: UA Students
Language of Instruction: English , French
Application Deadline: Fall, Academic Year: March 1Spring: September 15
Explore Sciences Po
This program will no longer be available after the Spring 2024 semester.
Sciences Po has a long tradition of educating French business and political leaders and ranks among the leading academic institutions in Europe. The seven campuses of the Undergraduate College host more than 1,000 students each year from Sciences Po's 470 international partner universities. Graduate students may enroll in regular graduate-level courses at Sciences Po through one of institution's Graduate Programs.
UArizona students may apply to study any of Sciences Po's seven campuses, provided they have the required language proficiency level some require: the Dijon, Poitiers and Nancy campuses have French or other foreign language requirements.
Click here to keyword-search Sciences Po's current course catalogue, and here to view the University's 'Grand Syllabus', which describes the entirety of the educational programs offered at the seven campuses of the Undergraduate College  and via their Masters and Doctoral Programs.
Exchange students enroll in second-year courses at Sciences Po (semesters 3 and 4). Click here, then select your campus to view available coursework.
Class selection tips:
5 ECTS / 10 ECTS at Sciences Po = 2.5 / 5 UArizona credits
'Workshop' credits will not transfer back to UArizona
Course registration at Sciences Po is occurs online in July for Fall, and in January for Spring
You may not enroll in more than 30 ECTS (15 UArizona credits) per semester
Avoid classes designated as 'Seminars'
French language acquisition
Students wishing to take courses taught in French must have completed the equivalent of four semesters of college-level French instruction, which . corresponds to the B-2 level according to the European Framework of Reference for Languages.
French language courses are offered every semester from beginner's to advanced level. Click here, select 'Francais', and scroll to the 'Horaires des Enseignements' link to review available coursework for the current semester or academic year. 
Scholarships:
Arizona International scholarships: 
Departmental scholarships:
Ask your academic advisor about scholarships, awards, and grants offered through your department!
External scholarships:
Fall Courses
Expand the sections below to view Sciences Po Paris campus courses that are pre-approved to transfer to UArizona. This list is not exhaustive- browse the course catalog linked above for a full selection of class offerings during your term abroad. Please note that these courses are not guaranteed to be offered each Fall/Spring term; inclusion on this list indicates typical availability.
Finance
Trade and International Finance
Course Description:
The objective of the course is to offer students an introduction to two key dimensions of globalization: international trade and international finance. The course will cover both theoretical and empirical contributions and will often refer to current policy issues in both international trade and macroeconomics. Using theoretical and empirical tools, we will consider a wide range of questions such as: what are the gains of specialization? what is the effect of trade on inequality? How does market power of firms affect international trade? What are the consequences of trade policies? How to understand international financial flows? What is the relation between exchange rates and monetary policy? How does globalization affect the conduct of macroeconomic policies? Is the euro an optimal currency area? Why so many international financial crises? The prerequisite for this course is the core economics course in the first year. Although not very formalized (we will mostly use graphs to explain theoretical mechanisms), this course will use some basic mathematical tools that are common in any modern economic course.
Partner Course Code:
AECO 25A00
UArizona Equivalent Course:
FIN Department Elective, Upper division.
Global Studies
European Integration and Its Challenges: The Euro, Migration, and Populism
Course Description:
The objective of the class is to provide students with a critical understanding of the major issues currently faced by European countries, and the interplay between Member States, European institutions, global challenges and democratic legitimacy concerns. We will analyse the facts to understand the major causes, potential consequences and think of possible solutions to address challenges existing in the euro area, those created by the unprecedented migrant flows in Europe, stemming from climate change. We will also look at the rise of Euroscepticism and the issue of democratic deficit in the European Union. Before concluding we will look at the dynamics of decision-making at the EU level through a simulation of Member State negotiations in the Council of the EU. By the end of term students are expected to have acquired a critical approach and a solid understanding of the major issues and debates on the topics covered during the class.
Partner Course Code:
DSPO 25A02
UArizona Equivalent Course:
ELCR Department Elective, Upper division.
Law
Introduction to Public International Law
Course Description:
In the fields of trade, human rights, environment, international law has come to play a major role as it has already and still does for traditional issues such as the production of norms and the existence, the status of the main subjects of international law in their mutual relations either through transactions or in disputes settlement. Major steps have been taken through the adoption and implementation of conventions and principles some being regarded as peremptory. Events such as the Balkans crisis, civil wars in Africa, Arab uprisings have changed the exercise of UN powers and raised questions as to whether domestic matters may constitute a threat to international peace and security and how international action might be taken. The objectives of the course is to provide the audience with a methodology and legal tools to understand problems and procedures of modern international relations
Partner Course Code:
ADRO 25A11
UArizona Equivalent Course:
LAW Department Elective, Upper division.
War, Peace, and the Sovereign State: Political Thought from Machiavelli to Kant
Course Description:
This course examines the evolution of political ideas from the early 16th century to the end of the 18th, with a particular focus on the emergence and development of the related concepts of sovereignty, the state and international law. Beginning with Machiavelli, in whose writings the shape of modern political thought is first discernible, it will examine successively the theories of Bodin, Grotius, Hobbes, Locke, Pufendorf, Rousseau and Kant. The course will be of equal interest to students of Political Science and International Relations.
Partner Course Code:
ASPO 25A12
UArizona Equivalent Course:
POL Department Elective, Upper division.
Political Science
Applying Discourse Theory: Populism, Indignation, and Political Identities
Course Description:
What is the importance of political identities in understanding recent events that have turned the world upside down, such as the new "indignation" protests (Occupy, Indignados, Yellow Vests) and the emergence of populism (Donald Trump, Bernie Sanders, Front National)? How are ideologies formed in these movements? What is the role of political dispute in winning hearts and minds? To answer this kind of question, the course proposes to introduce, develop, and critically engage key concepts of Discourse Theory. In particular, the course, referring to a wide range of sources, including poststructuralism and psychoanalysis, explains how political identities are discursively constructed on antagonisms and how different discourses dispute the hegemony of the construction of these identities.
Partner Course Code:
DSPO 25A09
UArizona Equivalent Course:
POL Department Elective, Upper division.
Citizen Politics and Democracy in Times of Crisis
Course Description:
This course explores the role of the citizen within contemporary democratic processes. It draws on insights from political sociology and comparative politics to answer essential questions regarding continuity and change on issues such as vote choice, political participation, public protest, trust in the political system, ideological orientations and political attitudes. Special emphasis is placed on the impact of the economic crisis on the changing preferences and behaviors of mass publics across Europe. The course aims to develop the students' analytical skills in comprehending current political events, public opinion, new social movements and current electoral dynamics from a comparative perspective. Each session of the course will draw on theoretical concepts and link them to empirical findings using comparative, time-series survey data. Students will be invited to critically combine theoretical tools with empirical evidence in order to comprehend the dynamic link between public opinion and political parties in postmodern Western democracies.
Partner Course Code:
DSPO 25A10
UArizona Equivalent Course:
POL Department Elective, Upper division.
Comparative Politics
Course Description:
This comparative politics course aims to familiarize students with the methods and objectives of comparison in the field of political science in order to help them grasp the contemporary world of politics in all its diversity. It builds on the introduction to the first-year political science course with an in-depth analysis of a region (Europe, Latin America, the Middle East, etc.) and its comparison with a selection of extra-regional cases. Through a regional approach, this course facilitates a reflection on common dynamics and on the singularity of political experiences in a global perspective. This course intends to stimulate a reflection on the terms of comparison, whether they are states, regimes, institutions, electoral systems, political divisions, social movements, political personnel, political profession, behaviors or votes. These terms imply asking questions of scale, since the comparison, far from being solely reserved for the stato-national level, can also be applied to organizations for regional integration or to local ways of doing politics. Similarly, the term-to-term comparison should also be tied to a reflection on the circulation of concepts, institutional forms, public problems and political practices. In order to break with a static view of comparative socio-political contexts, the course will be open to analyzing political change and breaks, whether they take the form of revolutions, crises or renewal of the political order. The contexts that are compared and not predefined, but can be adapted to the offer proposed by each campus. The choice of terms responds to epistemological and methodological questions that the course will develop. Comparative politics is above all an approach that necessitates clarification. The objective consists in highlighting the heuristic qualities of historicization, by demonstrating how one compares different socio-political contexts, based on what data and by posing what questions. The importance of the collection and processing of empirical data will be emphasized in order to specify the conditions for the possibility of a convincing comparison. Far from being limited to political science work, the inspiration in this field will be drawn from sociological, historical, and anthropological texts, depending on the prerogatives of the instructor
Partner Course Code:
ASPO 25A11
UArizona Equivalent Course:
POL Department Elective, Upper division.
Comparative Public Policy Analysis: Western European and North American Urban Policies
Course Description:
The course provides an introduction to comparative public policy analysis used in political science and administrative studies. It intends to develop theoretical and methodological skills for students interested in public policy analysis. This class provides the necessary tools for understanding and conducting in-depth research on a variety of political issues. Each class is divided in two parts. The first hour of lecture deals with the main concepts in public policy analysis. The second hour applies those concepts to a specific policy related to urban issues though a presentation by the instructor, a presentation by the students and a collective discussion with the class. Upon completion of this course, students should be able to: - Understand and criticize comparative analytical frameworks - Investigate policy processes, outputs and outcomes across various policy areas - Conduct their own research on a specific policy domain following a comparative perspective The course is structured so that the learning experience in class sessions is cumulative. Students will be expected to read all assigned readings, regularly attend and contribute to the class. They will develop their own comparative analysis of one policy in the US or Canada and in a European country.
Partner Course Code:
Comparative Public Policy Analysis: Western European and North American Urban Policies
UArizona Equivalent Course:
POL Department Elective, Upper division.
Politics and Stategy of the UNPK
Course Description:
The aim of the course is to examine the problems and possibilities of peace operations conducted by the United Nations. Throughout the Cold War, the United Nations undertook a small number of traditional peacekeeping missions (PK) that helped to bring peace and security to some war torn regions. Most of those missions were small and basically uncontroversial (except Congo). No ambitious operations could be undertaken politically because Cold War antagonisms prevented the Security Council from approving ambitious interventions — the Security Council was politically deadlocked by the possibility of the use of the veto by one of its five permanent members. In the early 1990's, just after the Cold War ended, there was a huge growth in the number of peacekeeping missions undertaken by the UN.
Partner Course Code:
DAFF 25A02
UArizona Equivalent Course:
POL Department Elective, Upper division.
Social Policies in Europe
Course Description:
Is there a "European social model"? If so, what are its main characteristics? What are the main institutions and policies aimed at supporting individuals when they are in social difficulties (sickness, unemployment, old age)? Are these similar from one country to the other? Are the social protection systems implemented in the post-war period still 'alive and kicking'? What are the main difficulties and reforms occurring throughout Europe? How do European countries deal with these challenges? Is the European level interfering in the processes of national reforms? The aim of the course is to provide students with a clear idea of the diversity of European social policies, of their political background, and to allow for the assessment of their performance. The course will also provide an in-depth account of current welfare reforms, in the perspective of their historical development. The social science analysis concepts (de-/re-commodification, path dependency, Varieties of Capitalisms...) will also be used in order to understand the issues at stake in recent debates concerning the welfare state and the trajectories of their reforms.
Partner Course Code:
DSPO 25A00
UArizona Equivalent Course:
POL Department Elective, Upper division.
Spring Courses
Expand the sections below to view Sciences Po Paris campus courses that are pre-approved to transfer to UArizona. This list is not exhaustive- browse the course catalog linked above for a full selection of class offerings during your term abroad. Please note that these courses are not guaranteed to be offered each Fall/Spring term; inclusion on this list indicates typical availability.
Location: Paris, France
Sciences Po's main campus in Paris is located in the historic Latin Quarter neighborhood. Paris is known as both the City of Light and the City of Love, and boasts world-famous sites such as the Louvre Museum, Eiffel Tower, Notre Dame, the Sainte Chapelle, and the Champs-Elysees. Click here to learn more about living in Paris as a Sciences Po student. 
Weather in Paris ranges from a little around freezing in the depths of winter, though usually with little snow, to typically pleasant, sunny days in the mid-to-high 70s in the summer.
Public transportation is the best way to get around Paris. The metro is affordable, efficient, and convenient with stations within 500 meters of nearly any spot in the city. Travel by train within France and Europe is also quite accessible and is an excellent way to explore the continent.
Start discovering Paris here through the Paris Visitors Bureau website!
Good To Know
LGBTQ+ Equality Index rating: France rates 77/100 (with 100 being the most equal) on Equaldex's LGBTQ+ Equality Index.
Global Peace Index rating: France ranks 67/163 in the Global Peace Index. The lower the score, the more peaceful the country.
Language Spoken: French
Housing: 
Sciences Po has established partnerships with public and private housing organizations to facilitate housing exclusively for the student body. Click here to check out these preferred housing options near the Paris campus, and here for options near Sciences Po's regional campuses. 
Click here to discover other types of accommodation such as homestays, flat-sharing, and intergenerational housing. 
Click here to review the U.S. Embassy & Consulates in France's COVID-19 information page.
Sciences Po
France
Semester Dates
Semester Cost
$50 Study Abroad Application Fee
Mandatory Geo Blue International Health Insurance at a rate of $3 a day (approximately $360 a semester)
You pay Main Campus UArizona Tuition & Fees to do an exchange and receive all of the financial aid you use on main campus.
To learn more about how financial aid is applied to studying abroad, please see the official OSFA website.
Other estimated costs include but not limited to housing, transportation (air & local), visa, meals, books and supplies
UArizona Study Abroad scholarships are available based on eligibility
Request More Information
Please enter your contact information and a member of the Study Abroad team will contact you.