Eller College of Management Master's in MIS students secure internships at top technology and management firms
May 16, 2022
Summer is here, and excitement is peaking as students in the Eller Master's in Management Information Systems graduate degree program are chosen for internships at big names like Microsoft and Amazon!
The University of Arizona's number 1 ranked graduate program in Management and Information Systems* prepares students for meeting future challenges by applying technical skills to the development and innovation of business processes.
Internships are integral part of the program, immersing students into top organizations to gain practical and in-depth knowledge of American business practice and culture. This insight, coupled with in-class learning, gives students firsthand experience translating technical and business concepts to real world scenarios.
Aakash Anil Kolekar | Search Science, Amazon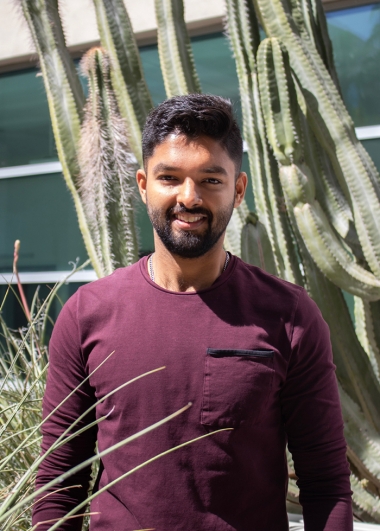 Aakash Anil Kolekar has secured his internship in the Search Science team at Amazon in Palo Alto for three months this summer, following a grueling application process that included several rounds of interviews and assessments.
Aakash is a natural problem solver and innovator. Seeing the layoffs caused by the pandemic, Aakash partnered with a tech institute in Mumbai to develop and deliver online courses to upskill students and prepare them for recovery. His passion for using technology and information to deliver groundbreaking improvements in user experience is what drove him to choose the Master of Management Information Systems at Eller.
With a Bachelor of Engineering in Computer Science providing important technical skills, Aakash knew the Eller MIS program would provide him with the essential business and management skills necessary to effectively bring his ideas into reality.
Bhumi Chitroda | Data Engineering, Amazon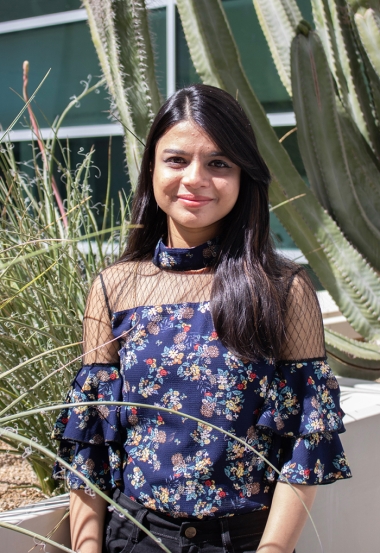 Like Aakash, Bhumi is keen to start her internship at Amazon in May. "It has been my dream to work at Amazon. I worked hard to prepare for each stage of the application process, so I am excited to receive the opportunity! I will be working in the Data Engineering offices located in the Seattle area."
The internship placement opportunities are a primary reason Bhumi chose the MIS program at Eller. Back in Mumbai, during the pandemic, she had started searching for the right degree to progress her career - one that complimented and expanded on her undergraduate Information Technology studies.
From the many options she considered, the clear choice for Bhumi was the Eller Master's in Management Information Systems, due to its unique curriculum and strong academic ranking, recently placed at number 1 among public universities in the U.S. News & World Report 2023 Best Graduate Schools. (link)
"The student support has also been excellent and much appreciated as I commenced the program. Academic and support advisers at Eller worked with me and all students to prepare us for securing our internships from the moment we arrived!"
Shreya Singh | Product Management | Microsoft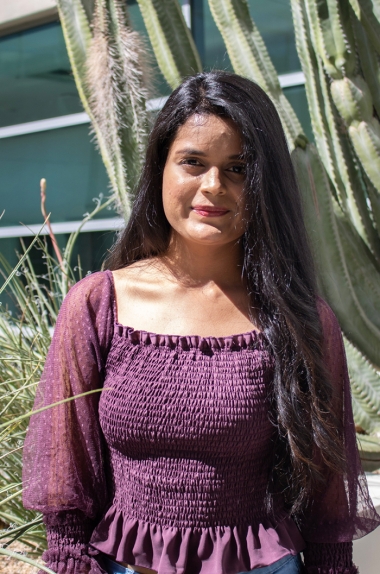 Shreya is from the incredible and sacred city of Varanasi in India, which is credited as being one of the most crowded, yet peaceful, cities in the world. Having completed undergraduate studies in computer science and engineering and working for three years in Delhi, Bangalore and Chennai, Shreya looked for an MIS program which had the perfect balance of technical and management curriculum – she chose the University of Arizona.
Early in the Master's in MIS program, students are encouraged to begin researching and actively seeking summer internship opportunities. Shreya was determined to find a placement as a product manager, irrespective of the company. She was picked by Microsoft and undertook an initial 45-minute interview followed by a marathon four-hour interview, broken into 4 rounds, each with different topics.
With the application process behind her, Shreya is keen to apply her knowledge and skills at Microsoft this summer, "My anticipation is high! This is the most exciting part of my study experience here in the U.S.!"
*U.S. News and World Report ranked Arizona's management and information systems program No. 1 among public ranked universities in it's 2023 Best Graduate Schools list.
---
About the Eller College Master's in Management Information Systems
Students in the Eller College of Management Master's in MIS graduate program gain valuable skills in enterprise data management and learn to analyze business processes, rethink them, redesign them and even automate them. Upon completion, they are ready to solve the strategic and business process challenges of today's tech-driven business world. For more information go to: arizona.eller.edu.